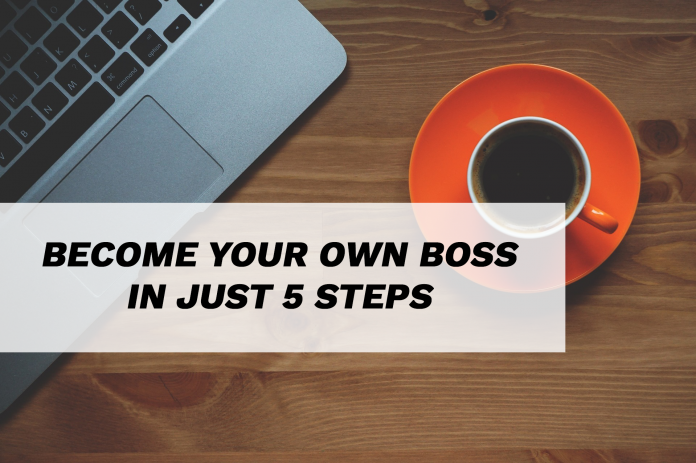 Freelancing is one of the competitive and preferable source of income nowadays, especially when it comes to earning some "Quick Money" if you got skills.
One of the main things that one thinks of when it comes to having a skill is "How can I be skillful?". This article focuses on this thing.
I recommend Fiverr as one of the best market place where you can start as a beginner and learn a lot of things.
Fiverr is a great choice for both buying and selling.
I'll teach you the 5 Steps that will help you start earning on Fiverr.
Note: These are the steps that are personally performed by me when I started selling. I've been a quite successful Fiverr seller for a long time & I tell you these steps to simplify things for you. You don't have to struggle as much as I did But you definitely have to do everything as explained blow.
Creating a Fiverr Profile
Signing up on Fiverr is no different than signing up on any other website. To create a seller profile on Fiverr just make sure to click on "Become a Seller" on their homepage.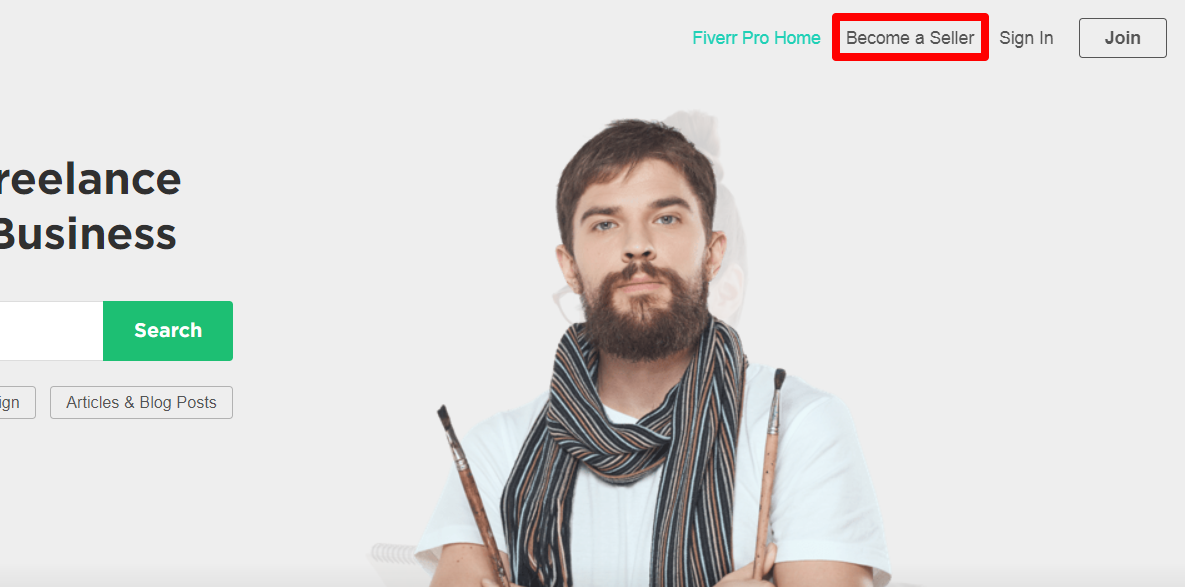 For a quick shourtcut just go to the Join Fiverr page. Start by entering your Email & select a username & password of your choice.
Pro Tips:
Make sure that your username is according to your Niche. Example: if you're a Graphics Designer make it to be "LogoDesginer1". You can keep your name as the username as well but make that decision wisely as you cannot change usernames later on. (Except you contact Fiverr Support for it, which is not a simple process.)
Try creating a new and professional Email for your account. You're going to earn a lot here hopefully so make sure to not lose the credentials for you account!
Setting Up Your Profile
After creating an account, you have to set up your Profile Page. A well written and neat profile page helps buyer trust you more and makes things more profesional.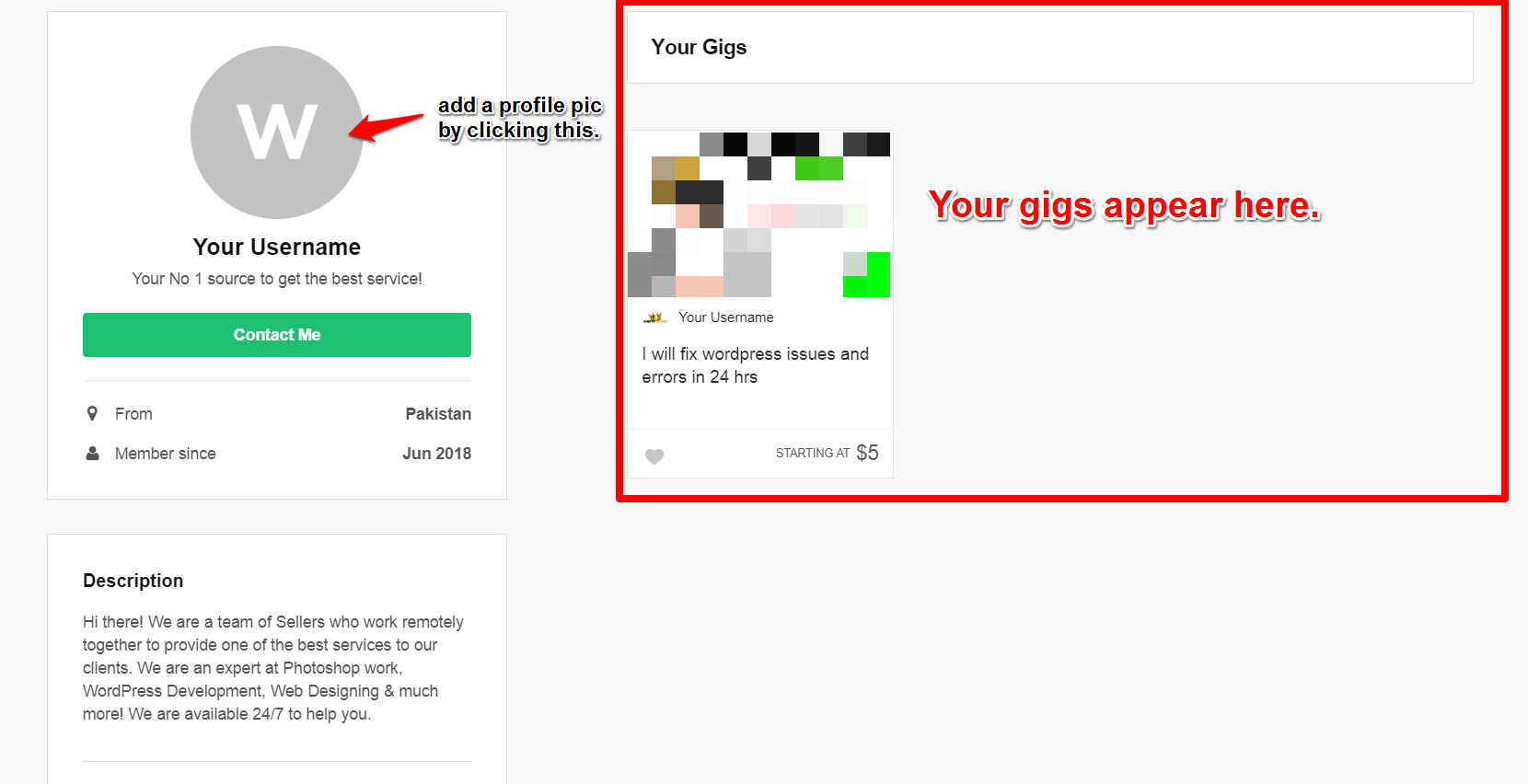 Above is a small introduction to the profile page. Everything is obvious here. Some important things I will explain below in more detail:
Tag Line
A tag line appear just below your username and doesn't contains any type of special characters (except "!") and some of the other characters.
You can make this a kind of introduction to yourself such as "Expert Web Designer since 2010"
Description
The Description is a bit detailed introduction about you and what you offer. Check the description in the above screenshot, it explains what a buyer can hire you for & how experienced you are.
Example Description:
"Hey I'm [Your Name], and I am the one-stop-solution for all your Logo & Photoshop work needs. I have designed for bigger organizations that include [companies or people you worked with.]. Here's a link to my portfolio: [Your Flickr or portfolio link]. Check out my Gig and decide for yourself what's right for you!"
Now, I don't want you to just copy and paster this with your info in the description. I'm just saying it should be something link this.
Pro Tips:
Don't be a copycat. Be unique and don't add fake portfolio if you don't have one, be honest.
Your Description, Tag Line and other profile info doesn't matter much in the ranking of the Gig but it matters as it leaves a good impression on the buyer.
In the "Skills" and "Certification" section add all the skills you got and certificates if you have one. If you don't got any certificates, it's Ok to leave that empty.
Creating a Fiverr Gig
Once logged in, on the profile page you'll see "Create A New Gig" button.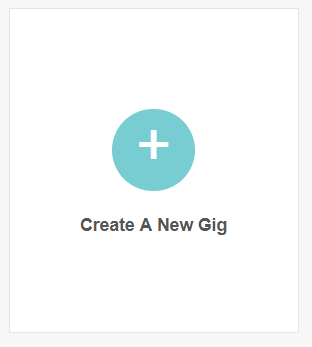 The Gig Creation process consists of 6 steps. I'll give a summary of each and how-tos about it:
Overview
Add a Gig title. Make sure it is short. The grammar doesn't really matters, but if it works then try to make the sentence such that it makes some sense. Example: "I will do stunning Logo design in 24 hrs"
In the Category select the services which you'll provide.
For the Tags section, you have to add 5 Tags related to the service you provide. These are the searches which buyers make when they're looking for the service you need. You can do some keyword research about it by searching things like: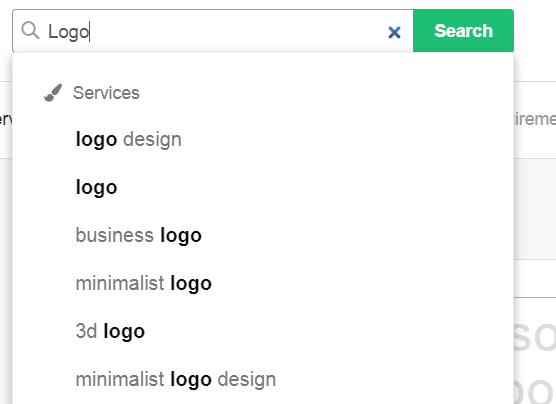 These drop down suggestions is what buyers usually search for. You can include these in your tags like: Logo, Logo Design, Business Logo, 3d Logo, minimalist.
This will help your gig rank higher in search results.
Pricing
Here you have to select your packages you offer. The best idea you can get about this is check other people who have similar Gigs as you. Make sure to not copy anything.
Description & FAQ
Add a Description about the service you offer in this gig. This doesn't needs to be too small and neither too long.
You can start by something like "Need a stunning logo for your business? Congrats! You have come across one of the best Gig related to logo design".
This section contains the focus keywords about your Gig as well and helps your gig rank higher in searches.
Requirements
This part will be shown to your buyer when they place an order. You have to ask them for the details about the work. For example: "Please let me know what type of logo you need, your brand name and a design you need your logo to be inspired from".
Gallery
This section will contain a main Gig image which will be displayed in the searches to buyers. A better Gig image helps your sales grow on Fiverr.
Moreover, when buyers leave a review and allow your designed logo for them to be showed on your profile, the portfolio images will be shown on your Gig in this gallery automatically.
Publish
Finally, by publishing a Gig sends it for approval to Fiverr and your Gig is made live and visible to everyone once approved.
Note: Publishing a Gig requires you to provide your phone number and verify it. This changes the location on your profile according to the country where the phone number belongs.
Buyer Requests (and how they work)
Buyers Requests help you to reach out to new buyers and get to work with them.
To see all the available buyer requests, Click on Selling > Buyer Requests on the menu.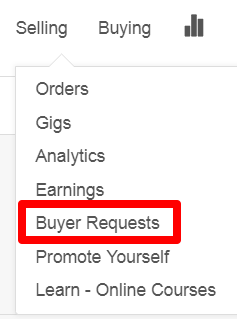 Note: As a new seller, you cannot see much buyer requests all the time. It will show No Buyer Requests when you're a new seller. However, at specific times, you will note that one or two buyer requests are appearing.
Pro Tips:
Try staying online for a whole day and checking after specific time if buyer requests appear for you.
Do all the 10 Requests that are given to you daily, if you're not receiving a project from a buyer you're probably doing something wrong when writing a proposal.
Getting Orders
Once a buyer see your requests and likes it, they'll either contact you or just place an order to hire you. You'll then have to complete the project and deliver the work.
Note that the first order is much important for you as it will increase your ratings when buyer leaves a review for you. Reviews are displayed on your profile page.
Have fun selling on Fiverr!